Skip to Content
About Matt D. Hershcovitch, MD
Dr. Hershcovitch is a double board-certified fellowship-trained physician specializing in ENT and Facial Plastic and Reconstructive Surgery. Dr. Hershcovitch was educated at the Massachusetts Institute of Technology (MIT), graduating with a degree in Nuclear Engineering. He received his medical education from the State University of New York and then performed his residency training in Head & Neck Surgery at the University of Cincinnati Medical Center. He then completed his training with a prestigious fellowship in Facial Plastic and Reconstructive Surgery at Stanford University.
Dr. Hershcovitch is passionate about treating the different aspects of sinus conditions and diseases. By staying current on sinus intervention innovation and technology, Dr. Hershcovitch is proud to offer minimally invasive office-based approaches and techniques to treat sinus conditions and diseases. These patient-centric innovations are more cost-effective and result in better outcomes, fewer complications, and faster recovery times.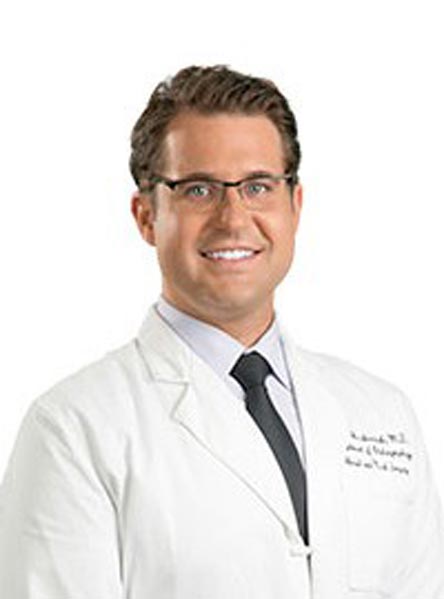 Approach to Sinus Disease and Conditions
Dr. Hershcovitch's passion for providing the best possible care to his patients is part of what makes him the ideal physician to treat sinus conditions and diseases. Dr. Hershcovitch's approach is unique and empathetic. He is committed to providing the best possible care to his patients. He is equipped with advanced and novel minimally invasive techniques that enable safe and effective office-based treatment of sinus disease.
Dr. Hershcovitch specializes in treating the conditions of the nasal cavity: nose and sinus infections, sinus obstructions, ruptures, operculum collapse, polyps, and reconstruction of sinus cavities.
Dr. Hershcovitch uses an innovative patient-centric approach to treat sinus disorders. He constantly searches for the latest sinus intervention modalities and consistently adds the newest minimally invasive techniques to his profound arsenal of patient-centric expertise.
Background
"I was born and raised on Long Island, New York. My interest in medicine started in college, where I worked part-time as a medic. I found my time working on an ambulance more exciting than my initial plan to become an engineer. I decided that a career in medicine was what I wanted to be doing. I thought about combining my talents and specializing in radiation oncology; however, I fell in love with surgery during medical school. In particular, I found Head & Neck Surgery very interesting and exciting."
When not in the operating room, Dr. Hershcovitch enjoys spending time with his wife and three kids, traveling to exotic destinations, as well as going to the beach, snorkeling, and deep-sea diving.
Passion
The importance of nasal wellbeing can not be understated. The health of the sinus cavity affects how well one can breathe, the degree of sinus congestion, and ultimately how one feels. In addition, the evidence continues to support that your nose is the gateway to the rest of your health. As technology has evolved, we now offer patients immediate and long-term relief right in our office. At SoCal Breathe Free Sinus Allergy Center, we are committed to helping you live your best life by solving your sinus and allergy issues.